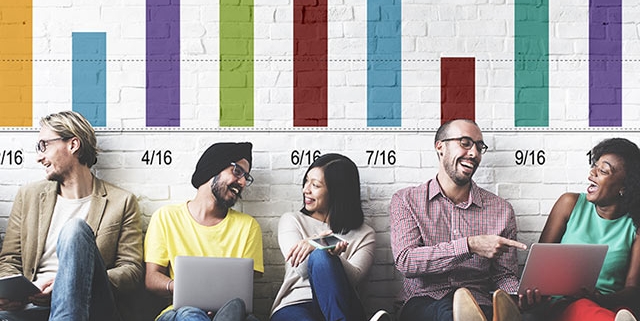 Email marketing has been and will continue to be one of the most effective marketing tools in a marketeers arsenal. On the face of it, email can look really straightforward, but underneath there are intricacies that make planning a successful email strategy tricky… especially for a first time flier! Given the complicated nature of the email channel, we often get asked if it's actually worth using the channel at all. As you can imagine, my answer is yes… and here's five key reasons why.
1 . King of All Marketing Channels
Email marketing works 40 times better at acquiring new customers than Facebook and Twitter, and compared to social media; offering marketeers 17% higher conversion rates.
That's right. Email rules the roost. Now, I'm not saying you should read this and immediately go and start bombarding your marketing list with emails, but this definitely demonstrates why you should be making efficient use of the channel. Additionally, email is better than Facebook because according to Forrester, people are twice as likely to sign up for your email list as they are to interact with you on Facebook.
2 . Subject Line Influence
47% of people will open an email based on the subject line alone.
Now I was pretty astounded when I found this figure out. In my head, as a marketeer, people would primarily be opening emails based on brand recognition, so to find out subject lines actually have a pretty huge impact, without the branding side playing a role, changed the way I approached my email marketing. What's really interesting is that 69% of email recipients report email as spam based solely on the subject line, so it's a careful balancing act.
If you need some help creating magical subject lines, check out our top tips for an irresistible subject line.
3 . Impact on ROI
44% of email recipients made at least one purchase last year based on a promotional email.
If this doesn't convince you how valuable the email channel is, I might as well give up now! This is why we try and grow marketing lists and target people using personalisation – the benefits it can have are incredible.
I don't know about you, but in every place I've worked, email is the one thing that is constantly questioned. I've lost count of the times where I've heard 'Yeah but does it actually do anything' or 'Prove it'. This is a clear sign that email is a valuable channel and incredibly effective.
4 . Checking in
89% of Americans check email at least once a day; nearly 21% check their email more than 5 times a day. This is a true testament to how many opportunities there are to not only drive existing and potential customers to buy from brands based on email, but also to increase brand awareness and presence. There is no other marketing function that allows you quite as much exposure to consumers so efficiently.
5 . Useage
According to Radicati's 2016 Email Statistics report, emails will be used by 3 billion people by 2020. That's almost half of the world's population.
Currently, there are over 2.6 billion email users worldwide. This is crazy given how many other forms of communication are available e.g. IM, Social Media. While new communication tools are constantly being developed and released, email is the one outlasting them all. You will also find that email addresses are the main form of identify required for day to day functions such as online shopping and social networks, suggesting that no matter how many new ways of communicating spring up, email will always be necessary and useful.
So there you have it – five key stats about email.
https://storage.googleapis.com/product-enabler.appspot.com/1/2018/08/image_046.jpg
540
640
Sophie Graham
https://storage.googleapis.com/product-enabler.appspot.com/1/2018/09/enabler-logo.png
Sophie Graham
2018-07-12 11:00:53
2018-12-07 12:02:39
Five must-know email marketing stats