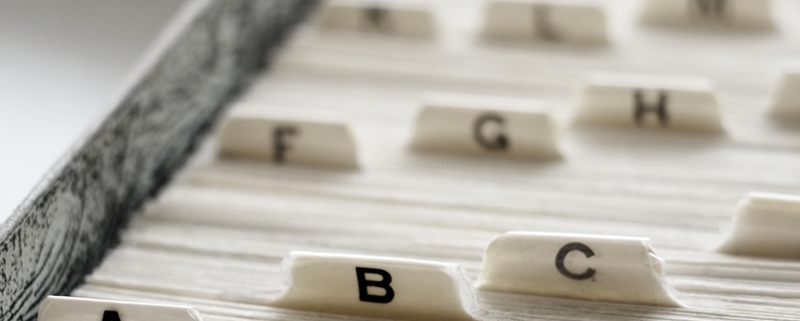 Using email personalisation to be intuitive, not invasive.
When you think about personalising an email, what springs to mind? Maybe using a merge code to insert a customer's name into a subject line. 'Emily, have you seen our new discount?', or starting an email with 'Hi James!' This isn't the only way to personalise your emails and it often isn't the best way.
Targeting your customers this way can lead to great results – increased open rates, higher levels of engagement and improvements on ROI, to name a few. However, personalisation only works if you use it in a way that is clever and not creepy.
Think about going into your favourite coffee shop. Let's say you go in every day and order exactly the same drink, each time giving the barista your name. The next day you come in, and the barista smiles at you and says 'Hi [your name] will it be a skinny decaf latte with caramel syrup?' That's great customer service. Now imagine you walk into a coffee shop you've never been into and a barista you've never spoken to before says the same thing… creepy.
It's the same with email. If you're emailing a customer for the first time and using their name in the communication, it can come across like you're stalking them. As you can imagine, this isn't great for customer relationships.
Here are a few pointers to keep in mind when you're trying to personalise.
Have you contacted this person before?
If you have contacted a customer previously and asked for information about them, then using their details in an email should come as no surprise to them. Personalisation is all about building up a rapport with your customers. The more communication you've had with them, the more personalised content you can use.
If you've never contacted them before, why not ease them into the relationship using a 'we'd like to get to know you better' email. This will allow you to gain more insight into your customer, while at the same time making them feel at home with your communications.
Is your language mirroring the personalisation?
Personalisation is not just about writing customer's names in an email or subject line. It's also about how that personalisation is continued throughout the campaign. Using phrases like 'you' and 'your' can help continue the personalisation and show the customer how your product or message applies to them.
Is your data being used correctly?
You'd be shocked how many examples of badly used personalisation come into inboxes every day. What this demonstrates is that companies are sending emails without understanding their data, even at a basic level. You'll be able to spot this by looking for the wrong information coming through in a merge code. One company recently pulled their customers last names through in the email rather than their first names.
The really awkward part of this was that the rest of the email was written in a very light hearted, familiar fashion. It was like reading an email about grabbing a drink after work… from your high school headmaster. 'Hi Chaplin, have you seen these offers you're going to love?'
Definitely creepy.
The other mistake companies often make with data is attention to detail. Check that the personalisation you're using is going to work across the whole database. Sure, it's great that Jamie, Akhil and Vanessa will get lovely personalised messages but what about Woody, whose first name you haven't collected? Woody gets a 'Hi __'.  Woody doesn't deserve to be blanked. Worse, he might even get a 'Hi First_Name'. He'll notice your email for all the wrong reasons and either quickly unsubscribe or maybe even share it with his friends or online to point out your error. Help Woody out and protect your brand by checking your data. Double check it. Check it again.
Is the personalisation appropriate?
Are you getting in touch using a communication that is person specific? For example, birthday emails. There's nothing less personal than getting a 'Happy birthday Sir/Miss' email. This is a perfect time to use that data you've been saving for a special occasion. Birthday emails are a fantastic excuse to show your customer how much you value them. It's your chance to give them some added value – perhaps with a free offer or a discount code. For Retail companies, a chance to use the "Spoil yourself with a new…" sales approach.
The best example of these emails that I've seen is from Pizza Express who sent an email with the subject line 'Happy Birthday *Name*' Inside the email was an offer for a free bottle of prosecco with any main meal. They even included a lovely gif of the champagne being poured into the glass – and the little candle also flickered.
Another great time to use this is Christmas: 'Kate, what do you want for Christmas'? It's a fantastic time of year to make the jump from 'brand that occasionally emails you' to 'brand who knows you'. Incidentally, it's also a great time to get more intelligent with your data and find out more about the people you're emailing. Why not use the sparkly magic of big annual events like Christmas, New year, January sales and Easter to squeeze out some more information and make your data richer for the next email campaign? Apply segmentation to entice them with something that's relevant to your customer and their purchasing history.
Are you missing an opportunity?
Are you holding data about a customer's purchase history? If you are, this is a great cross sell opportunity. If they've already bought something from you, they've already interacted with the brand – which gives you a way in. You can approach the cross sell in a friendly manner: 'Hi Anni, we thought you might like these…" Provide some useful information, such as "these shoes go with this dress…" or "popular picks in knitwear…" and so on. People have busy lives – help them; provide tips they can use to make their lives better/easier/more productive. If you can be of use to your customers they'll come to rely on you, which builds brand loyalty and keeps them coming back.
Once again, there's a difference between being clever and creepy in these situations. While it's okay to refer to an item you think your customer might like, it's not okay to get too specific. Imagine opening an email to find 'Hi Anni, we noticed you bought three red medium sized Christmas jumpers last Saturday at 3:30pm on your Android phone, and we thought you'd also like these things'. Creepy!
The best way to win in this situation is to be insightful but casual. 'We thought you'd like this' is always the safer option.
What do they want?
This is without a doubt the most important thing to remember. Sure, you're emailing your customers for your benefit; maybe to sell to them, maybe to keep them engaged with your brand – whatever the reason, the number one point to remember is 'what do they want?'
Preferences are the key. This can range from a simple gender split, to segmenting your data based on what types of communications your users are interested in. The best newsletters that arrive in your inbox are the ones which have content tailored to you. This not only makes the customer feel special but will also mean they're more likely to interact with that communication.
One brand that does this particularly well is RSA Canada. Their monthly newsletter is segmented by what region their brokers are in, as well as by preference type – and they even have a translated version for their French speakers. This means that each month, each of their brokers receive a newsletter that is completely tailored to them. It's no wonder that their last newsletter boasted a 28% click thru rate.
When you're putting together your next email campaign, check your data, check the communication history, run through your personalisation checklist and make sure that you're being clever and not creepy. If in doubt, apply the party rule. You would never walk up to someone at a party whose name you couldn't remember and say 'Hi…First Name'. No, you'd be subtle – you'd go and ask a friend or maybe work your way to that piece of information through another means.
The same applies to your data. If you don't know their gender, don't just assume they are a male just because most of your database is. A female colleague of mine recently received a beautiful email from a fashion brand – unfortunately they had sent her the menswear collection of jumpers.
One final tip is to always ask yourself the question; 'if I applied this in a party or networking situation, would people be running in the opposite direction?' If the answer is yes then re-think your strategy. Not creepy? Email to your heart's content.
https://storage.googleapis.com/product-enabler.appspot.com/1/2015/11/image-110.jpg
675
800
Sophie Graham
https://storage.googleapis.com/product-enabler.appspot.com/1/2018/09/enabler-logo.png
Sophie Graham
2015-11-24 11:00:07
2018-12-07 14:27:12
Email personalisation: are you being clever or creepy?